Sam Steele Died 96 Years Ago Today
January 30, 2015 by Lynn McPherson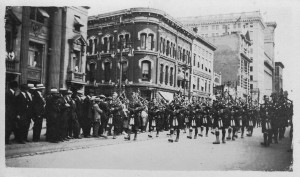 After months of failing health, and mostly bedridden days, Sam Steele died at his home in Kent, England on January 30th, 1919, just a few weeks after his 71st birthday. The cause of death was attributed to the Spanish influenza infection that proved fatal for so many people world-wide in 1918-1919. Sam's health was further compromised by adult-onset diabetes, lowering his resistance even further to this virulent flu virus. His death made headlines in newspapers in England, and throughout Canada, shocking many people who had not known how seriously ill Sam was.
A full military funeral was held at St. John's Church in Putney, England on February 6th, 1919, and included representatives from Canadian military battalions, the Royal North-West Mounted Police, Lord Strathcona's Horse, Canadian Machine Gun Detachments, and several branches of the Canadian Army Corps. and Service. Massed bands played, a Gun Carriage procession took place, and honorary pall bearers included a host of Major-Generals and Brig.-Generals.
In the summer of 1919, Sam's body was brought back to Canada, where a second large and grand military funeral service was held; causing even the tension of the Winnipeg General strike to halt as Sam Steele's funeral procession wound through the streets of Winnipeg. Sam was buried in Winnipeg's St. John's cemetery 0n July 3rd, 1919.
The two Blog photographs, selected from the Steele archives housed at the University of Alberta, show a scene from the Winnipeg funeral procession, and a view of Sam's headstone at the St. John's cemetery.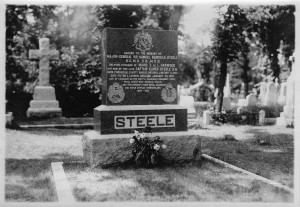 comments powered by

Disqus