An Ogopogo Sighting!
November 26, 2014 by Lynn McPherson
Among the papers of Flora Steele, Sam and Marie Steele's oldest child, is this wonderful sketch of Ogopogo, the lake monster reputed to live in Okanagan Lake, British Columbia.
The provenance of the sketch is unclear, except that it was drawn by a Mr. William Park of Vancouver, B.C. and given to Flora. As an adult, Flora was increasingly interested in the realm of mystique and became an avid student of philosophy, ancient cultures, religion and poetic expression. She was also a friend of Roger Pocock, an early NWMP Officer, adventurer, and friend of her father's, who had travelled through the Kootenay region of B.C. in the late 1880's and early 1890's. Sources suggest that Ogopogo was first seen by the First Nations people of the region in the late 1800's, and since Roger spent time with the First Nations people while in the area, it is possible he heard tales about the lake monster. A reasonable guess might be that it was Roger Pocock who introduced Flora to Mr. Park and his Ogopogo drawing; Ogopogo seems like a topic that would have interested both Roger Pocock and Flora Steele!
There is no date given for the drawing, but early reported sightings of Ogopogo by non-natives were in the 1920's, and the name 'Ogopogo' originates from a 1924 English music hall song, so an estimated date for the sketch is 1926.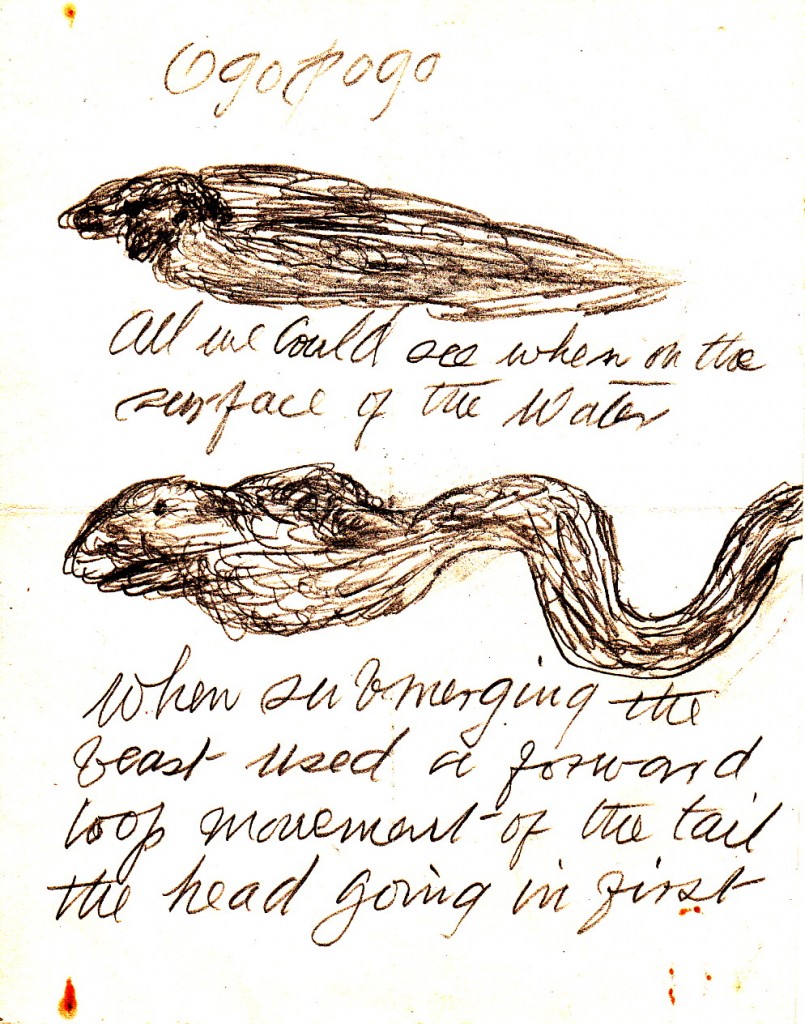 comments powered by

Disqus