A Famous Sister
October 13, 2014 by Lynn McPherson
Roger Pocock, a friend of the Steele family and whose papers were received with the Steele papers at the University of Alberta, is a fascinating individual in his own right. Adding to what makes Roger interesting, is the fact that he had a sister who was a very well known stage actress of her day. Her name was Lena Ashwell (nee Lena Margaret Pocock).
Lena, born in 1872, was raised and educated in Canada, and went on to study music at Lausanne, Switzerland and at the Royal Academy of Music in London, England. She decided to pursue an acting career, and had her professional debut in 1891 in "The Pharisee" at the Grand Theatre, Islington. Over the next twenty years, Lena starred in a variety of theatre productions, including several Shakespeare plays. She played Portia in a 1900 production of Julius Caesar and Emilia in a 1902 Lyric Theatre production of Othello. In 1906, although continuing to act, Lena took up theatre management, and from 1907 to 1915, ran her own theatre, known as the Kingsway.
During the First World War, Lena began organizing companies of professional actors, singers and entertainers to perform for allied troops stationed in France, and by the end of the war, there were twenty-five of her companies performing for troops in Europe. For her effort, Lena Ashwell was awarded the Order of the British Empire.
Married to and divorced from fellow actor Arthur Playfair, Lena married Sir Henry Simpson (obstetrician to the Royal family) in 1908. Sir Henry was the surgeon present at the birth of Queen Elizabeth II.
After the war Lena Ashwell formed the Once-a-Week Players, later known as the Lena Ashwell Players, and produced drama at the Century Theatre, London, from 1924 to 1929. Her autobogioraphy, "Myself a Player" was published In 1936. Lena Ashwell died in March 1957.
Letters to and from Lena Ashwell exist in both the Roger Pocock papers, and the Steele family papers. In the scrapbooks Roger kept to detail his experiences and writing, are many clippings, playbills, and photographs paying tribute to the career of his famous sister. Attached below is a scanned playbill from the Roger Pocock papers of his sister Lena Ashwell's performance in "Marguerite" playing at the Theatre Royal in Glasgow (October 1904).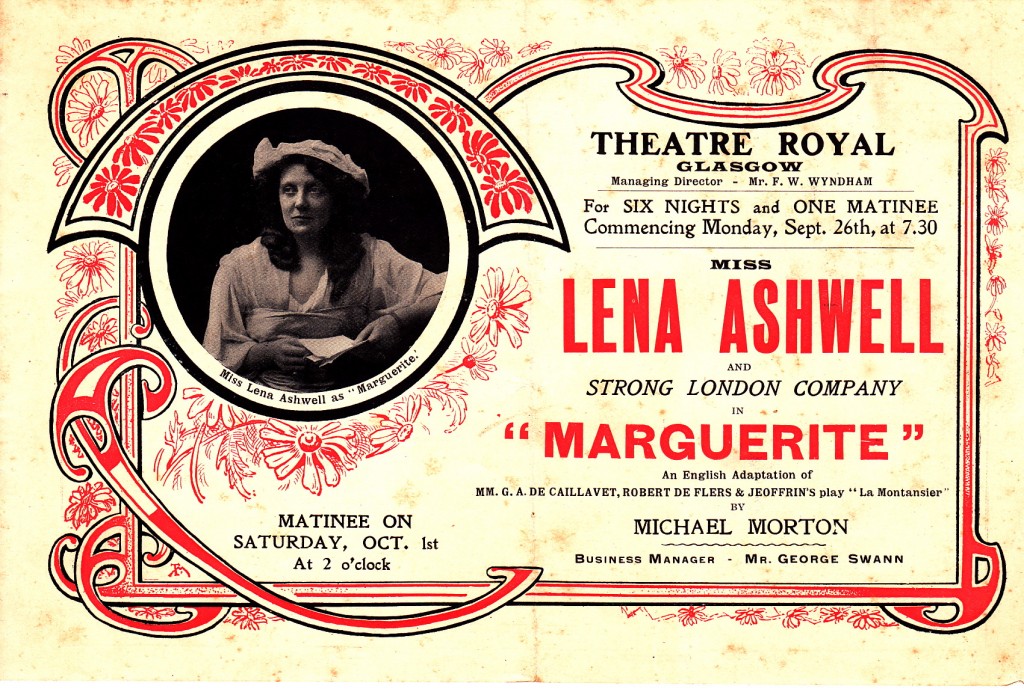 comments powered by

Disqus