The End of Summer
September 2, 2014 by Lynn McPherson
I came across this unique photo-card recently in the Steele papers housed at Bruce Peel Special Collections Library at the University of Alberta. It is a lovely sepia-toned photograph of Sam Steele's son Harwood walking down a country road in Vaudreuil, Quebec with his cousins. The photograph is mounted on a card stock with a pretty coloured maple leaf design on one side, the word 'Canada' written beneath the leaf, and a small calendar for the year 1908 attached to the bottom left corner of the card. The card, as the added calendar suggests, was sent to Sam and Marie Steele from Marie's brother Gus and wife Marie (parents of the aforementioned cousins) as a New Year's greeting card. On the back of the card is written: "Sam and Maye, With sincere wishes for a bright & happy new year, Gus & Marie".
While I don't know the circumstances around the picture being taken, it feels like an end-of-summer (or early fall) photograph to me; the children are dressed in their finery and perhaps returning home from a party or Sunday school. Harwood is on the far left wearing a dark suit and cap, while two of the children are riding in a small wagon being pulled by a young goat. One cousin is riding a tricycle, a baby is being carried by her nurse, and two young girls clad in fancy dresses and hair bows are walking along the road. The pastoral photograph captures a lovely scene from the past, and almost makes one wish they could be transported back into that time and place to be a part of this pretty scene.
On a light note, someone has written "Les Chevaux" (The Horses) 1907 beneath the photograph – perhaps this is an inside joke reference to the goat as horse. The photograph is scanned below – Happy end of summer to everyone!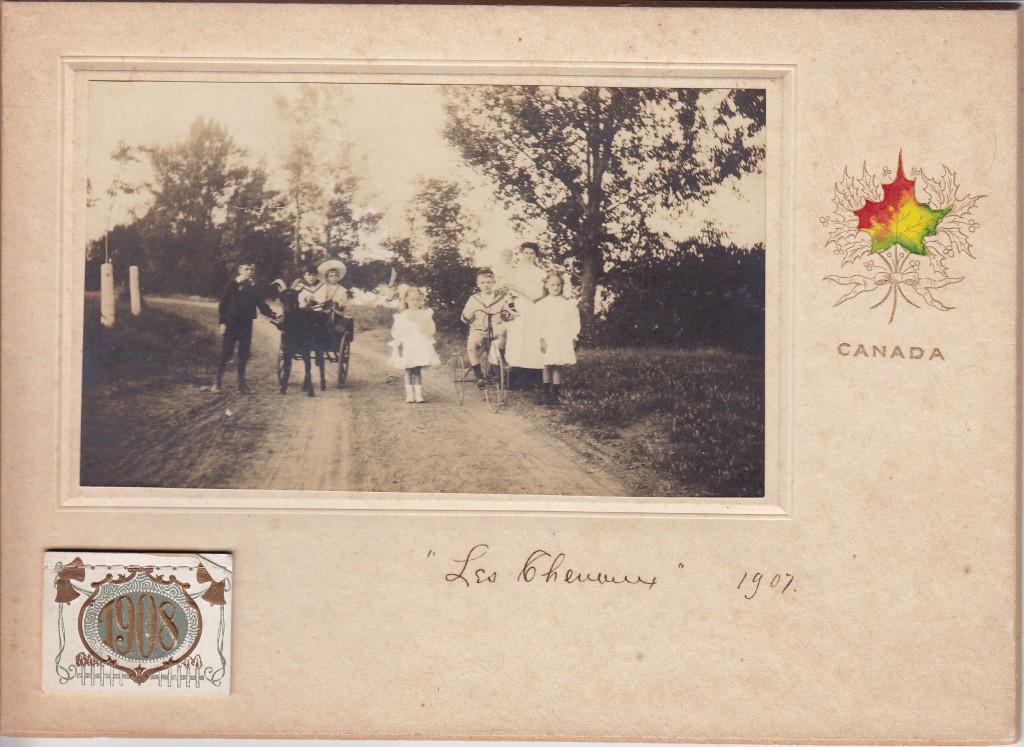 comments powered by

Disqus