A letter from John George Diefenbaker
June 22, 2014 by Lynn McPherson
Harwood Steele, Sam and Marie Steele's son, was a military man (served in both World Wars I and II), a writer, lecturer, and historian. He was also involved in maintaining his family's records, and was very protective of his father's legacy and image. The Harwood Steele fonds, received at the University of Alberta alongside the records of Sam Steele and other family members, is diverse, extensive, and interesting for the many letters written, manuscript drafts saved, and activities documented. Scanned below is a letter Harwood received from former Prime Minister John Diefenbaker in 1976 replying to a letter sent from Harwood congratulating Mr. Diefenbaker on his appointment as a member of the Companions of Honours.
John George Diefenbaker, born at Neustadt, Ontario in 1895, served in the army for World War I, and completed his law degree at the University of Saskatchewan in 1919. He succeeded George Drew as leader of the Progressive Conservative Party in 1956, and formed the Tory government in 1957. The Liberals were returned to power in 1963, although Diefenbaker remained in politics, winning a final election in May 1979. He died in August, 1979.
In the letter to Harwood Steele, Diefenbaker writes:
From my boyhood, Sir Sam Steele was always one of my heroes. His participation in maintaining law and order in the Yukon Gold Rush was lived and re-lived as I chatted with the late Maj. P.W. Pennyfather, who served under your late father as an N.W.M.P. in Dawson City. I have often said that Sir Sam Steele has never been given his rightful place as one of Canada's greatest.
It is our hope at Bruce Peel Special Collections Library that making the Sam Steele papers available for research will help restore Sam Steele to his rightful place in Canadian history, along such notable persons as John Diefenbaker himself!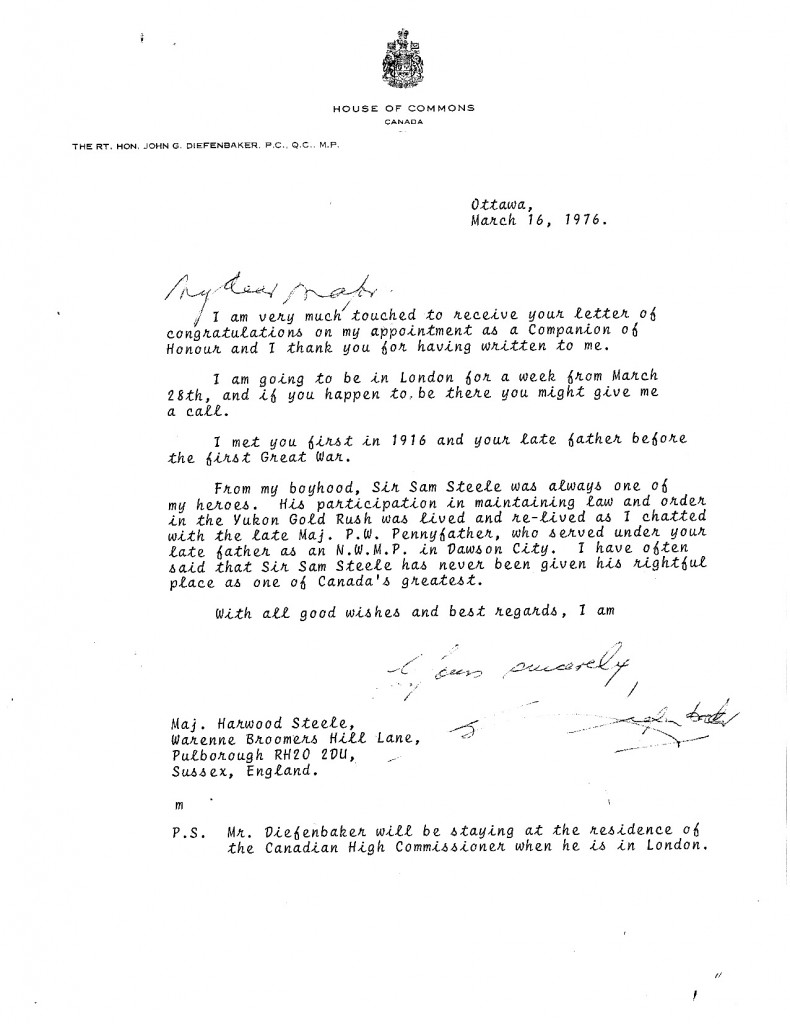 comments powered by

Disqus