Honouring the Fallen
March 31, 2014 by Lynn McPherson
Very shortly after the conclusion of the Second Boer (1899-1902), Sam Steele was intent on commissioning a monument to honour those men of Lord Strathcona's Horse who had been killed in action during this war. An artist he consulted with, and whose designs he considered, was the French-Canadian artist and sculptor Louis-Philippe Hébert. Hébert, well-known at this time for his public monuments, wrote to Sam Steele on the 28th of February, 1902 from Paris, France regarding his designs for a commemorative Lord Strathcona Horse statue. He sent three sketches of proposed statue designs for Sam to consider, with a brief explanation of his design ideas. Hébert writes in his letter to Sam that he can "take charge of the whole work" for the cost of about $5000.00 and cautions Sam against wanting marble: "regarding the cold weather of North West (Calgary), I consider that bronze would be preferable by all means."
All three sketches are included with the Sam Steele archives housed at the Bruce Peel Special Collections Library at the University of Alberta. I have scanned one of the three designs (Number 2) below as an example of Hébert's design ideas.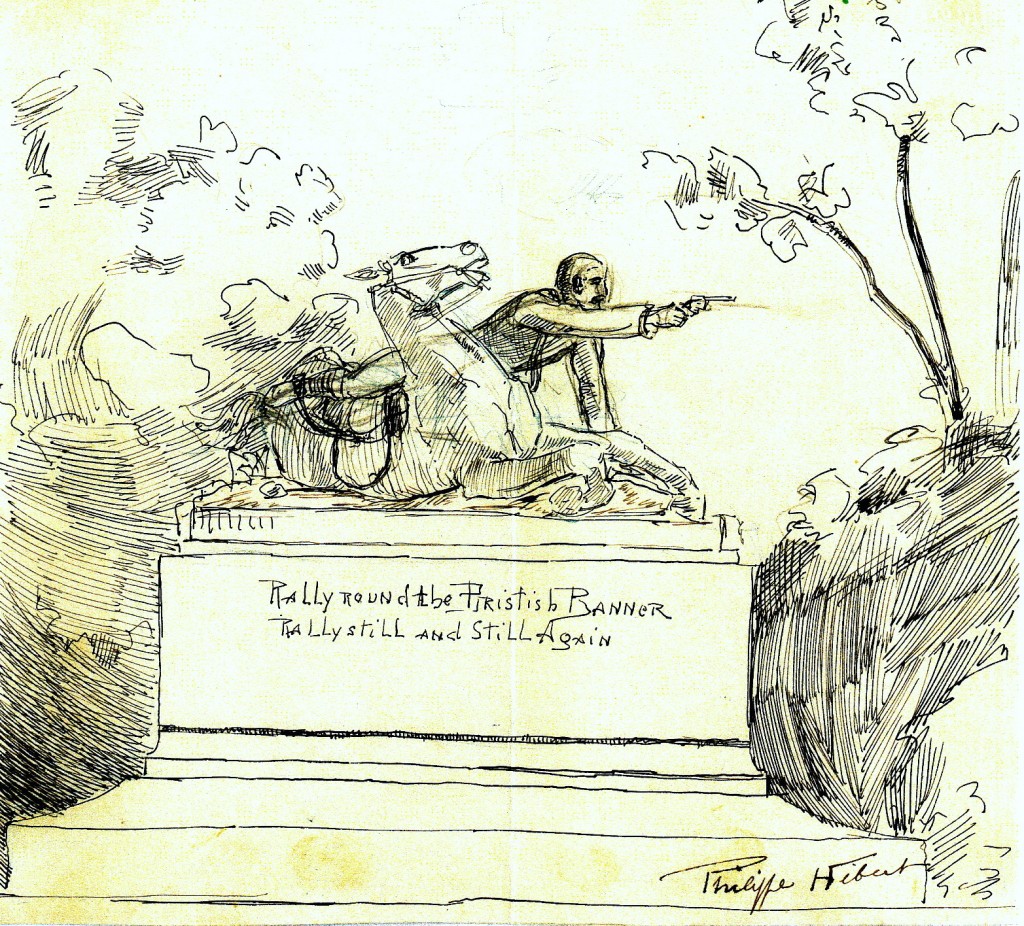 About this particular design, he writes: "group life size, a soldier lying on the back of a wounded horse, firing still."
It appears that Sam, in the end, did not commission Hébert or any other artist to create his monument to the fallen Lord Strathcona's Horse soldiers, but there is an interesting after note to this story. In 1911, Louis-Philippe Hébert was commissioned by the South African War veterans of Calgary to design a South African War memorial statue which was unveiled at Central Memorial Park in Calgary, Alberta on June 20th, 1914. A photograph of the 1914 sculpture appears below.
comments powered by

Disqus